Nucleo: Allright, class, I need to ask you something. Being younger and possibly more "hip" to current trends than I am, perhaps one of you can explain this...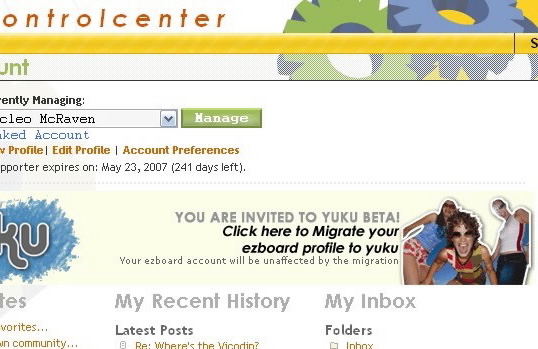 What is this Yuku thing I keep seeing in my message board profile? Is it one of those on-line services that hooks you up with other people? Because if it is, I think it would be great if I signed up for it.
Lukyan: And you think your wife would be okay with that?
Nucleo: It's not like that. I just think more people should be exposed to these wonderfully adorable pictures of me.
Chance: You are a real narcissist, Nucleo, you realize that don't you?
Nucleo: Oh, I am not. I can't help it if I'm rather cute for my species. And at least my forum name is spelled correctly. Or should I start calling myself Nucleoy McRaveny?
Chance: Yeah, well, that's what I get for letting Chester register my name for me. I don't feel like fixing it right now.
Jack: Yuku is just another message board service like ezboard. Ezboard's eventually going to be changing over to it. I just want to know what's with the picture of people screaming in your face? That doesn't exactly make me want to try it.
Lukyan: Uh, kinda like your picture?
Jack: Well, I'm not screaming directly in your face. I'm sort of screaming off to the side.
Nucleo: Oh, is that all it is? And to think I edited Tomi's arm out of this picture for nothing:
Chance: Except that the lack of Tomi's welding-gloved hand reveals that your upper arm and shoulder were drawn much too big.
Nucleo: No, it's a photograph. My arm really looked like that when it was taken.
Chance: You had deltoids as big as my head and biceps that are practically non-existant. Sure. Either you're one screwed-up creature, or that's someone's photoshop gone horribly wrong.
Christopher: Ack! I accidentally clicked that Yuku link while updating my profile. I certainly hope this doesn't mean someone's going to come to my door and scream in my face if I open it...
Lukyan: So what? Then it'd be exactly the same as when Chance visits.
Chance:

Nucleo: I think I just heard the doorbell ring...
Jack: Oh, I'll get it...
Christopher: NO, JACK, FOR LEOHTISS' SAKE, DON'T!!!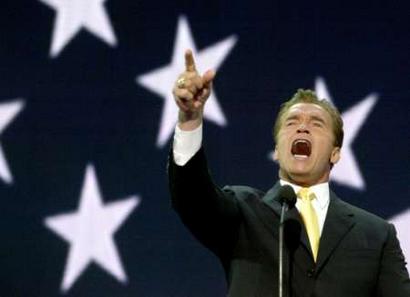 IT'S NOT A TOOMAH!!!!!
Chance: O_o
Christopher: @_@
Lukyan: Oh, shit. My ears.
Nucleo: My chalkboard just collapsed.
Jack: I've lost all sense of feeling in my left collarbone.
Christopher: That Yuku is some service...
Nucleo: Oye. I concur. What do you think, Chance? ...Chance?
Chance:

Nucleo: Take five, everyone. I'll try to um...revive him.