Nucleo: Allright, class, the first question Professor McRaven has for you today is...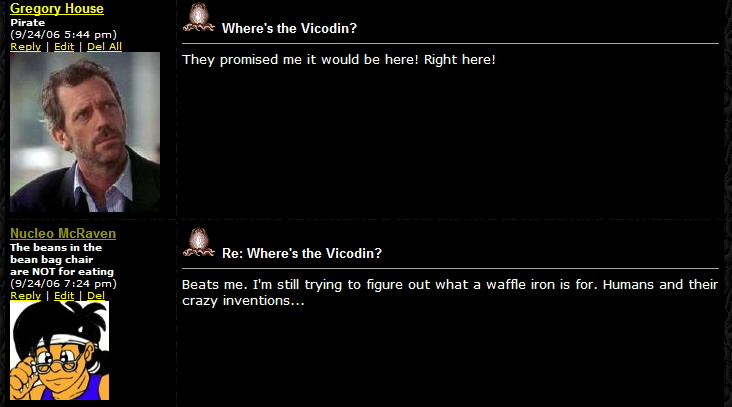 Which one of you put that under my name on the forums? Geez, I only did it that ONE time. Cut a guy some slack, allright? It's not like anyone else got angry with Kiini for eating my slippers. Do you realize how hard it is to find slippers in my size?
Besides, who ever heard of making a piece of furniture out of food?
Christopher: Sorry, Teach. It wasn't me, and I have no idea who it could've been.
Lukyan: Haven't the foggiest.
Chester: Dude. Not me. I couldn't even type that many words.
Jack: Not me, either, 'Cleo.
Nucleo: You don't have to yell, Jack.
Jack: I'm not yelling. It just looks that way because this is the best profile picture I could find.
Chance: THAT'S what you called us here for?
Nucleo: Are you saying you know something, Mr. Tomasaro?
Chance: Yeah. I'm saying that you called us here on a non-school day to chastise us because YOU got in trouble for eating all of the beans out of the beanbag chair! What do you have to say about that, professor?
Nucleo: =(

They were delicious...
Jack: I'm thinking it might be Professor Crow. He's been acting rather cranky lately.
Nucleo: Ah, thank you, Mr. Sheen. That's quite a plausible theory. You're a lot more helpful than "Samurai Librarian" here.
Chance: At least I don't show up to teach my classes while wearing gigantic fuzzy slippers.
Nucleo: No, but you did teach one whilst wearing an eyepatch for no apparent reason:
Christopher: Hey, what's with the picture of House, MD?
Chance: Did it ever occur to you that maybe I had just had eye surgery?
Lukyan: Maybe, but you didn't.
Chance: You, shut up.
Jack: Wait...House MD was wearing an eyepatch? I'm lost...
Chance: No. And shut up.
Chester: Dude! I've never seen a house wearing an eyepatch. That'd be awesome!
Chance: Shut up. Just...shut...up.
Christopher: Beans are a great source of protein and fiber.
Chance: SHUTUPSHUTUPSHUTUPSHUTUP!!!!
Jack: I can't shut up. My mouth was drawn that way.
Chester: Dude! Mine, too.
Jack: What is that weird pink stuff in your mouth? Your tongue? Your gums? Bubblegum?
Chester: An accretion disk caused by the existence of a fast-spinning black hole emitting X-rays and Hawking radiation in the back of my esophagus.
Lukyan: Shit.
Jack: Awesome!
Chance: That's it! I'm getting out of here. I can't believe I got up early on a weekend for this.
Nucleo: Well, it's getting close to lunch time anyway. Who wants to join me for some bean burritos?