Backstory From My Old Comics: Shnoos were actually created for use in The Minerva Project. They are kind of like to TMP what Moogles are to Final Fantasy - cute little rotund animals that look harmless, but actually turn out to be good fighters or magic-users when necessary. Shnoos were based on a parakeet named FatShnoo that was owned by TMP creator Sethra Kinov.
Character Design Notes: I used to doodle Shnoos in my notebooks in college. The designs for them are very simple as they were based on the photographs of Sethra's parakeet. I also owned a couple of albino parakeets at the time and used them for reference sometimes, too.
Shnoo in the RAU Gallery: FatShnoo made a cameo appearance in The Great Forum War Part 4: The War Against ErniePants. Future appearances are not planned at this point.
---
Shnoo sprite.
&nbsp&nbsp&nbsp
&nbsp&nbsp&nbsp
Let the Shnoo parade begin!
&nbsp&nbsp&nbsp
&nbsp&nbsp&nbsp
More Shnoos
This one kills me. It's a group of Shnoos, obviously, and each one has a weapon of some kind. There's one with a sword, one with a bola, a mace, a razordisc, and then there's one with...A PROPELLER BEANIE HAT!! You aren't going to tell me that one didn't get short-changed.
Sprites of Cory McRaven and a puffy Shnoo spinning two bolas.
Stuffed Shnoo
A Shnoo with a sword.
Two Shnoos
Desire von Blueblood and a Shnoo
Shnoo block
Shnoo notebook doodle.
How exactly does she swing that sword? O_o
&nbsp&nbsp&nbsp
More Shnoos
Ninja Shnoos
Shnoo and Shaddah Paladin sprites
There is a Shnoo in the upper-right corner of this group sprite picture. It is the only Minerva Project-exclusive character to appear here.
&nbsp&nbsp&nbsp
More Shnoo pictures. (And that one still has that beany hat.) The second one is interesting, it's an RAU Gallery Box. Shnoos in the RAU? That would've been weird...
I don't know about you, but I wouldn't want to get in that Shnoo's way.
LOL! I can draw shadows.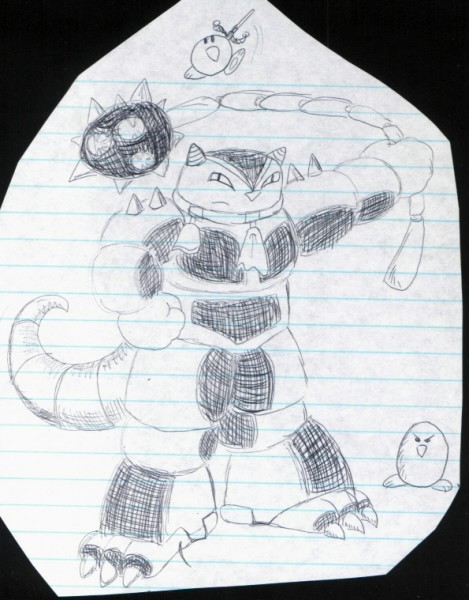 Calico King notebook sketch with Shnoos.