Friends of The RAU Gallery
---

CB007 is a prominent member of Port Saiid who keeps an archive of all of our Game Progress Topics. He has also made various guest appearances in the RAU Gallery series.
---

CodieKitty is also an avid site supporter who has made guest appearances in the RAU Gallery and has contributed various pieces of RAU fanart. Nucleo appears on her links page button!
---

Crawl doesn't always have the best suggestions for this series, but he is an avid supporter and has made several guest appearances.
---

DHN is staffed by five supportive people who have all made appearances at one point or another in this series and even have some RAU fanart in their MS Paint Gallery. This site is what inspired the "Greatest Hits" compilations that Robin does at the end of some sketches.
---


The main site that hosts this one!
---

Greybob is a relative newcomer to the scene, but his site is already shaping up with some great reviews and writings.
---
Wildcat is a longtime site reader who has written in many times to the Q&A section and used to run Wildcat Online. This is his new blog for game reviews and more.
---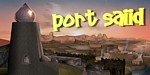 Port Saiid is the official message board of FlyingOmelette.com, and the source of much of the RAU Gallery's inspiration, cameo appearances, and "Greatest Hits" posts.
---

Along with being an avid site supporter with a multi-faceted great website of his own, Ragey of Random Hoo-Haas has contributed some Honen Calzoun fanart.
---

Rage Quitter's Corner Shop has lots of random good stuff: Game shrines, Fist of the North Star, Transformers, and more.
---


Where the Dudeacopter came from! Where else?
---

The hilarious "Killdozer" series at Sweetbee's Game Hive was an influence on The RAU Gallery's jump into an internet sketch comedy series. This is also where Moon-Man and Randall Sneer came from.
---